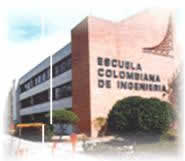 [English Version]

Welcome
Thank you for visiting this Web Site
Please, use only browser Internet Explorer 5.0
or higher versions.


Fluvial hydraulics. General concepts about morphology, dynamics and the transport of silts in alluvial rivers. Equations and methods of more extended use for their evaluation and calculation.

Colombian School of Engineering

Civil Engineer Gregorio Marín Uribe
Specialist in Hydraulic Resources and Environment


---
This Web-Site has been developed in their entirety by:
Engineer Gregorio Marín Uribe
General Manager and "Web-Master" of Colombian Engineering of Consultation and Development Ltda.
The author assumes total responsibility for this place.
Send their restlessness to: gregoriomarin@engineer.com


Download Internet Explorer 5.0/5.5/6.0 (XP)
---
Colombian School of Engineering
Bogotá, D.C. - Colombia -

Civil Engineering & Hydraulics Power!!!